Jadeite Cabbage 翠玉白菜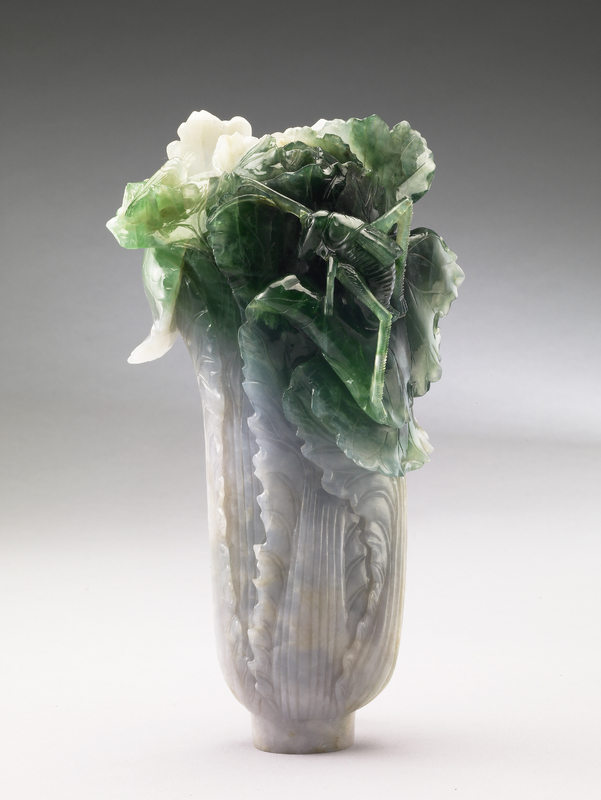 Dublin Core
Title
Jadeite Cabbage 翠玉白菜

Subject
Mineral, Jade, Vegetable-like objects
Description
Another piece of rock that has been carved into the shape of a Chinese cabbage head. It even has two insects crawling among the leaves.
Date
Late Qing Dynasty (1644 AD- 1911 AD)
Format
Small, Reflective and bright colour, Smooth texture
Crafts Item Type Metadata
Crafting Methods
The cabbage was carved from a single piece of jadeite taking advantage of its half-white, half-green natural colors. The numerous imperfections in the rock such as cracks and discolored blotches were incorporated into the sculpture and became the veins in the cabbage's stalks and leaves.
Usage and Application
One important reason why carved-jade objects were and still are so highly prized, is because the Chinese believe that jade represents purity, beauty, longevity, and even immortality. In addition, jade carvers valued the stone for its glitter, translucent colors and shades.
Collection
Citation
"Jadeite Cabbage 翠玉白菜
,"
CCCH9051 Group 64
, accessed April 1, 2023,
https://learning.hku.hk/ccch9051/group-64/items/show/33
.
Geolocation