Meat-shaped Stone 肉形石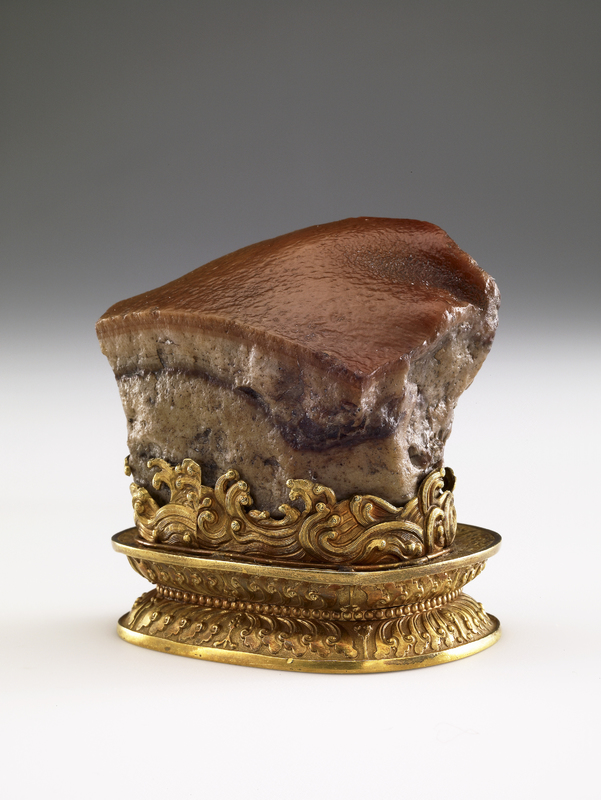 Dublin Core
Title
Meat-shaped Stone 肉形石
Subject
Meat-like object, Stone, Jade
Description
This mouth-watering chunk of stewed pork belly with a gratuitous layer of fat and glistening sheen is actually a piece of rock—jasper to be exact—that was cleverly carved and dyed to resemble a succulent piece of meat by an anonymous Qing dynasty artist in the 19th-century.
Date
Qing Dynasty (1644-1911 AD)
Format
Rough surface, Layered colours
Crafts Item Type Metadata
Crafting Methods
The stone was carved during the Qing dynasty from banded jasper. The layers of the stone accumulated naturally over the years, with various shades of hues. The craftsman who carved the stone stained the skin, which resulted in a realistic looking piece of stone with multiple layers appearing like layers of fat and meat.

What makes this piece of art so special is that the rock naturally looks like a piece of pork belly, with its layers formed by the accumulation of different impurities. The craftsman who made this took the rich natural resources of the stone and carved it with great precision, even rendering the pores, the wrinkles and dimples on the skin.
Usage and Application
It is part of the collection of the National Palace Museum in Taipei, Taiwan. Although of only moderate importance from the point of view of art history, it is a great popular favourite with visitors and has become famous.
Collection
Citation
"Meat-shaped Stone 肉形石,"
CCCH9051 Group 64
, accessed April 1, 2023,
https://learning.hku.hk/ccch9051/group-64/items/show/32
.
Geolocation