Enamel Painted Porcelain 琺瑯彩繪瓷 (景泰藍)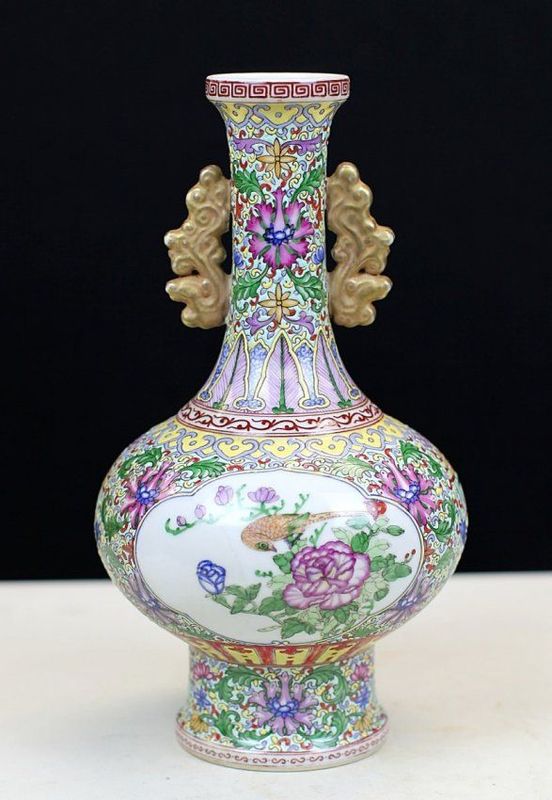 Dublin Core
Title
Enamel Painted Porcelain 琺瑯彩繪瓷 (景泰藍)
Subject
Porcelain, Colour, Pattern
Description
Enamel Painted Porcelain was pottery that featured unique techniques such as overglaze painting and cloisonné (embedding of minerals). It emerged during the Qing Dynasty (1644-1912 AD) which dubbed it as Qing porcelain. The Qing imperial court would order custom-made pieces of enamel painted porcelain.
Source
Ordinary Chinese Porcelain
Date
Qing Dynasty (1644-1912 AD)
Relation
White Porcelain, Blue and White Porcelain, Black Porcelain, Celadon
Format
Hard, Smooth, Colourful
Crafts Item Type Metadata
Crafting Methods
Applying a variety of over-glaze pigments to decorative schemes of flower, landscape and figurative scenes, these wares have gained great fame in the West. In the eighteenth century, borrowing from techniques in the decoration of metalware, enamel was painted on porcelain to create vivid colors and stunning patterns.
Usage and Application
It was used for decoration.
Collection
Citation
"Enamel Painted Porcelain 琺瑯彩繪瓷 (景泰藍),"
CCCH9051 Group 64
, accessed February 1, 2023,
https://learning.hku.hk/ccch9051/group-64/items/show/40
.
Geolocation