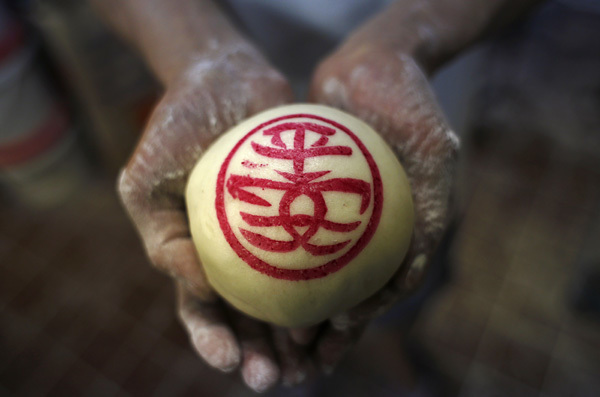 Dublin Core
Title
Ping On Bun
平安包
幽包
Ping On Pao
Subject
Vegan food
Traditional food
Handmade food
Food
Description
In the old days, Cheung Chau villagers believed that eating hot Ping On Bun helps to avoid disease. Also, they believed that spreading the Pin On Buns which have been powdered into the sea can help to restore calm of the sea. In the old days, buns were to be distributed to the villagers after prayers and used to offer sacrifice to Gods and ghosts.

Its major ingredients include
► Low-protein flour
► Lotus seed paste
► Sugar

It is best served at hot or room temperature.

Bun towers were built annually for the Cheung Chau Bun Festival. Real Ping On buns were used to build the tower. However, after an accident of collapse of a bun tower in 1978, plastic Ping On buns are used for the Cheung Chau Bun Festival every year.

**There are more flavours that can be seen nowadays such as red and green bean.
Creator
Cheung Chau villagers
Date
1800s (Mid-Qing Dynasty)
Contributor
Cheung Chau current citizens
Hong Kong government
Identifier
PingOnBun1800s
Coverage
pandemic in mid-Qing Dinasty
the collapse of a bun tower in 1978
Is Replaced By
Plastic bun
Rights Holder
Hong Kong government
Food Item Type Metadata
Recipe
► low-protein flour 200g
► sugar ¼ teaspoon and 2 tablespoon
► lotus seed paste 45g
► Lye Water 3-4 drops
► yeast ½ teaspoon
► water 100g
► baking powder ⅓ teaspoon
Steps
1. Add the yeast and ¼ teaspoon of sugar to the water
2. Wait for 5 minutes
3. Add low-protein flour to the mixture
4. Knead the dough for a few minutes
5. Spray the pan with oil before putting the dough in it
6. Cover the pan and wait for it to rise
7. Mix the 2 tablespoons of sugar with the baking powder
8. Add the lye water into some pure water
9. Mix it well and add the dough into the mixture
10. Mix the dough and knead it for few minutes
11. Divide the dough into four equal parts
12. Take one part of the dough
13. Put the lotus seed paste or red beans inside as stuffing
14. Shape the dough into a sphere shape
15. Put it into the steamer for 30 minutes
16. Increase the temperature and cook for 10 minutes
17. Stamp "Ping On" on the bread
You are done!!
Geolocation
Item Relations
This item has no relations.