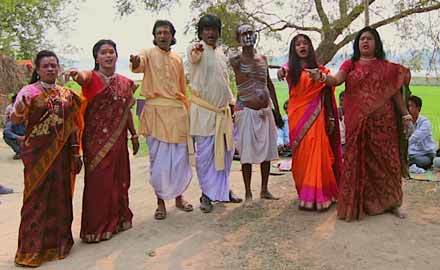 Dublin Core
Subject
Folk Dance of India
Folk Dance of East India
Description
Alkap is a form of Bengali folk performance popular in the districts of Murshidabad, Malda and Birbhum in West Bengal It has also spread to the adjoining areas of Jharkhand and Bihar such as Dumka and Purnia.
Relation
Chag Lo
Bihu
Bardo Chham
Cheraw dance
Coverage
West Bengal and adjoining states
Folk Dance Item Type Metadata
Highlighting Facts
Alkap is an amalgamation of music, dance and theatrical presentation. An alkap group of ten to twelve performers is led by a sarkar (master) or guru (leader) and includes two or three young men called chhokras, one or two gayens or singers, dohar, choristers, and musicians. Alkap is presented in five parts: Asar Vandana, Chhora, Kaap, Baithaki Gaan and Khemta Pala. The program is a reflection of rural society and puts the focus on the prevailing socio-economic condition of the rural masses.
Occasion
Major Gatherings and occasions
Instruments
Harmonium
Tabla
Dhol
Costume
Men are dressed as women
Geolocation