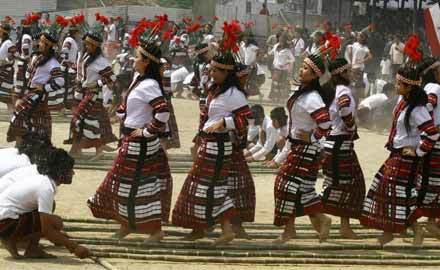 Dublin Core
Title
Cheraw Dance
चेरो नृत्य
Subject
Folk dance of India
Folk Dance of East India
Description
. This "ritualistic" dance style is said to have originated from the state Mizoram. Apparently, this dance traditionally was performed so as to provide comfort to the soul of dead mothers. However, as of today this dance is performed during most festive events celebrated in the state. Furthermore, this dance form is also considered to be the "oldest" in Mizoram.
Relation
Chang Lo
Alkap
Bardo Chham
Bihu
Folk Dance Item Type Metadata
Highlighting Facts
In terms of technique, this dance involves performers alternatively moving in and out of a pair of crossed bamboo staves laid horizontally on the ground. In addition, this crossed bamboo staves are arranged on the ground by a few people facing each other on each side.
Occasion
3 Kuts: Chapchar Kut, Mim Kut, Pawl kut.
Instruments
2 crossed pairs of bamboo staves
Costume
Colourful traditional dance attire belonging to the state that includes the Thihna, Vakiria, Kawrchei, and Puanchei.(mainly Women)
Geolocation