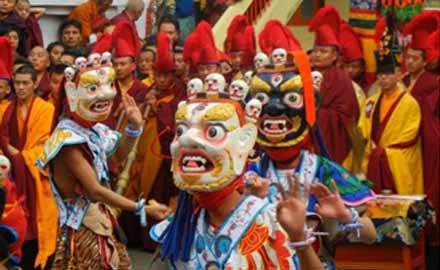 Dublin Core
Title
Bardo Chham
बारडो छम
Subject
Folk Dance of India
Folk dance of East India
Tribal Folk Dance
Description
Belonging to the northeast of India is a dance style known as "Bardo Chham". This "tribal" dance was created by a community called "Sherdukpens". Apparently, this dance style is said to been based on the age old theory of "good eventually prevailing over evil".
Relation
Chang Lo
Bihu
Alkap
Identifier
Bardo_Chham_001
Coverage
Arunachal Pradesh
Folk Dance Item Type Metadata
Highlighting Facts
the use of certain animal masks in this dance form is due to a popular belief that exists within the "Sherdukpens" tribal community, which states that there are apparently twelve evil animals that appear every year.
Occasion
No specific occasion
Instruments
Cymbals
Drums
Costume
Colorful costumes along with twelve animal masks
Geolocation