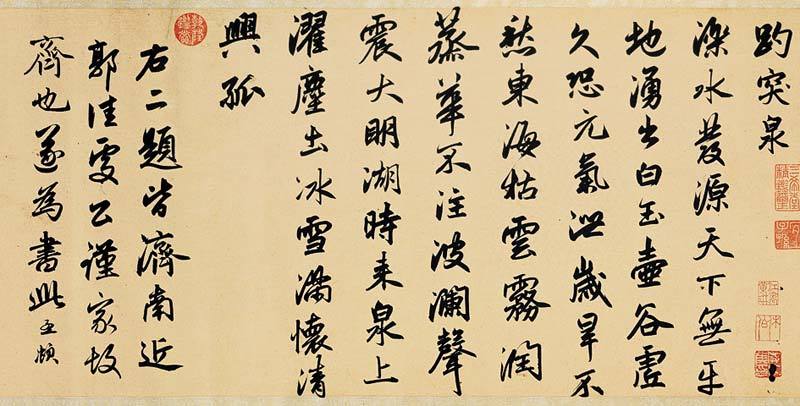 Dublin Core
Title
Poetry on the Baotu Spring (書趵突泉詩)
Subject
Ancient Calligraphy
Chinese Calligraphy
Calligraphy Masterpiece
Famous Calligraphy
Regular Script (楷書)
Yuan Dynasty (元朝)
Zhao Mengfu (趙孟頫)
Description
This piece was created by Zhao Mengfu after he returned from his travels from Jinan (濟南). It was dedicated to his old friend Zhou Mi (周密), a native of Shandong (山東) who had never been to Jinan, so Zhao especially wrote this scroll of poetry as a gift.
Creator
Zhao Mengfu (趙孟頫)
Contributor
Ode on Leisurely Living (閒居賦)
Record of the Zhoujin Studio (書晝錦堂記)
The Return (歸去來辭)
Rights
National Palace Museum (國立故宮博物院), Taipei (臺北市)
Format
Handscroll
Ink on paper
33.1 x 83.3 cm
Regular script (楷書)
97 characters
Identifier
poetryontheboatuspring
Spatial Coverage
The Baotu Spring is located outside of the west gate of the old city wall of Jinan (濟南) in Shandong Province. When Zhao Mengfu was an official in Jinan, he often traveled to this location.
Calligraphy Item Type Metadata
Transcription
趵突泉。灤水發源天下無,平地湧出白玉壺。谷虛久恐元氣洩,歲旱不愁東海枯,雲霧潤蒸華不注,波瀾聲震大名湖。時來泉上濯塵土,冰雪滿懷清興孤。右二題皆濟南近郭佳處,公瑾家故齊也,遂為書此。孟頫。
Suggest Corrections
Geolocation