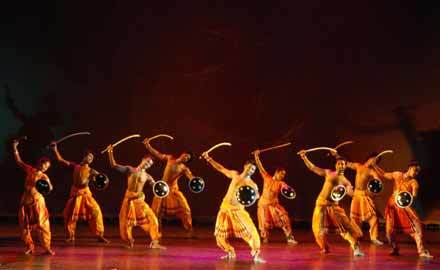 Dublin Core
Title
Chhau dance
छौ नृत्य
Subject
Folk Dance of India
Folk Dance of South India
Description
This dance form was basically created using elements of martial arts and tribal folk dances in the south eastern coast of India.
Relation
Veeranatyam
Dollu Kunitha
Bhaag Naach
Kolattam
Folk Dance Item Type Metadata
Highlighting Facts
This dance form essentially combines the use of vigorous body movements along with the movement of the mask worn by the performer. It is via the movement of the mask that the performer manages to express human emotions such as joy, depression, anger etc.
Occasion
spring festival of Chaitra Parva
Instruments
Dhol
Dhamsa
Mahuri
Costume
A dark green/yellow pyjamas is used for playing the god , a black pyjama is used for playing the demon. Extremely colorful is usually worn by the performer to cover up the upper body. Masks are also used.
Geolocation