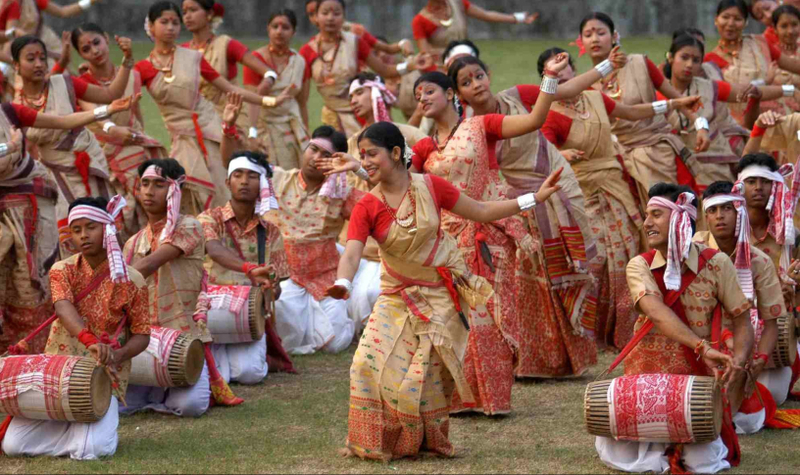 Dublin Core
Subject
Folk dance form
East Indian dancce form
Folk dance in Assam
Indian dance
Description
The Bihu dance is an indigenous folk dance from the Indian state of Assam related to the Bihu festival and an important part of Assamese culture. Performed in a group, the Bihu dancers are usually young men and women, and the dancing style is characterized by brisk steps, and rapid hand movements. The traditional costume of dancers is colorful and centred round the red colour theme, signifying joy and vigour.
Relation
Bardo Chham
Chang Lo
Singhi Chham
Cheraw dance
Folk Dance Item Type Metadata
Highlighting Facts
This dance essentially comprises of rapid feet and hand movements. It has been passed on from one generation to another.
Occasion
Three Bihu Festivals: Rongali, Kongali, Boghali
Instruments
Dhol
Pepa
Taal
Toka
Costume
MEN: wear a cotton dhoti (covers the lower part of the body) and the upper part of the body remains uncovered. gamocha is used as a headgear.
WOMEN:wear a Mekhala which covers the lower part of the body and a chaddar is used to cover the upper part of the body. Jewelry and flowers are also worn

Geolocation