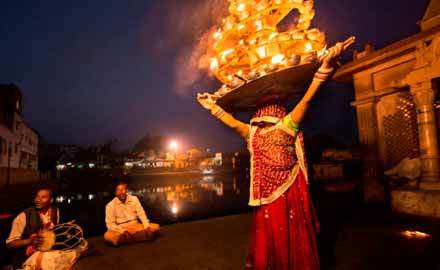 Dublin Core
Subject
Folk dance of India
Folk dance of North India
Description
In this dance, veiled women balancing large multi-tiered circular wooden pyramids on their heads dance to songs about Krishna. Each pyramid has 108 lighted oil lamps arranged in a spiral. It is believed that on that day Radha was born.
Relation
Dumhal
Bhangra
Raas Leela
Hikat
Coverage
Braj region of Uttar Pradesh
Folk Dance Item Type Metadata
Highlighting Facts
It is believed that Lord Krishna raised the mount Goverdhan and as if to re-enact the Govardhan Leela the dancing damsel of Braj raises the 50 Kilo Charkula on her head while performing the Charkula dance.
Occasion
3rd Day after the festival of Holi
Costume
WOMEN : dress in long skirts that reach up to the toes. a colorful blouse is used. Dancer covers her body and face with the veil.
Geolocation