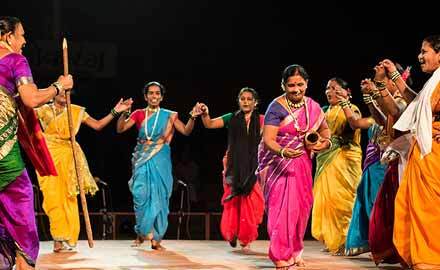 Dublin Core
Subject
Folk Dance of India
Folk Dance of West India
Description
Fugdi is a Goan folk dance performed by the women in the Konkan region during Hindu religious festivals like Ganesh Chaturthi and Vrata or towards the end of other dances like Dhalo.
Relation
Garba
Ghoomar
Dandiya Raas
Kalbelia
Folk Dance Item Type Metadata
Highlighting Facts
This dance form involves women arranging themselves either in a circle or row formation depending on the region they belong to. So if the dancers belong to a village then they will use a circle formation, and if they belong to a forest area then the row formation would be used.
Occasion
Ganesh Chaturti and Varda
Instruments
No Music is used
Geolocation