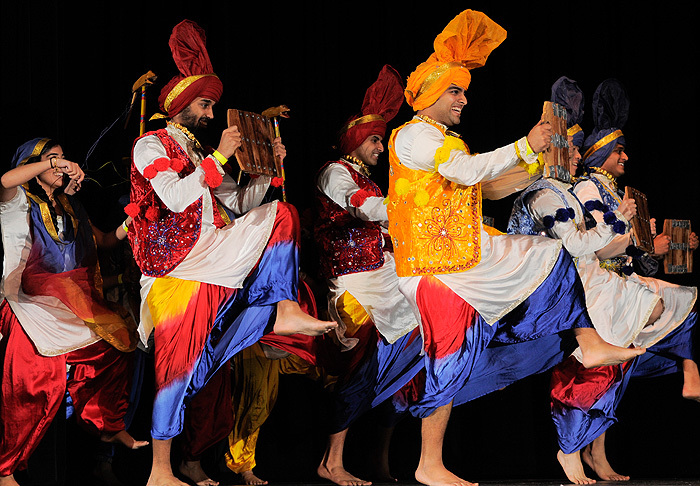 Dublin Core
Subject
folk dance form
Indian dance
north Indian dance form
Description
The term Bhangṛa refers to the traditional dance from the Indian subcontinent originating in the Majha area of the Punjab region.
Folk Dance Item Type Metadata
Highlighting Facts
The music created for the Bhangra possesses an extremely lively rhythm, and is based on a fast "eight beat taal" known as Kahaerava. In addition, the bhangra music is created using traditional Indian instruments. Furthermore, the lively music used for this dance form is backed up by lyrics of Punjabi folk songs referred to as "Dhola".
Instruments
Ekta
Sarangi
Chimpta
Dhol
Daffali
Dholak
Dhad
Costume
MEN:-The costume includes a Pag i.e. turban, a kurta i.e. a silk shirt comprising of four buttons, tehmat i.e. a loincloth tied around the waist, chagi i.e. a waistcoat, and Rumal i.e. scarves tied around the fingers.
WOMEN:-The attire includes a traditional Punjabi female dress suit known as salwar kameez that includes a colourful shirt and long baggy pant and chunnis i.e. a colourful cloth usually wrapped around the neck.
Geolocation